We've learned a lot in 2021. We had the chance to get back to our feet and now it is time to start 2022 with great plans.

When we retrace our steps, we learn. The idea is not to make the same mistakes again. It also helps us to make efficient plans for the near and long-term future.
At Europartners Group, as your best strategic partner in logistics, we have selected great turning points of the year 2021 to help you reflect what could still impact 2022, with some recommendations from our specialists to help you having a brilliant logistics in 2022.

Table of contents
1. The Chinese New Year
2. The global container crisis
3. The semiconductors' crisis
4. The Critical Cargo Boom
5. The Great Supply Chain Disruption. What will happen in 2022?
6. Strengthening alliances between companies
7. The truck drivers' shortage
8. Regulations changes and strengthening
Bonus: Bonus: Europartners, celebrating success
1. The Chinese New Year
The logistics calendar begins with a big challenge: maintaining its plans before and immediately after the Chinese New Year.
In January 2021, we organized a webinar to talk about the market situation and possible alternatives.
The highlights of the maritime transport at that time were:
Container shortage
Struggle to get spaces
Urgency to embark
Not a lot has changed, right?
Our best recommendations in the beginning of 2021 were:
A. Plan shipments many weeks ahead
B. Get premium services
C. Change from FCL to LCL
D. When using ocean freight services, sending security stocks using air freight services, too.
And what will happen in 2022?
According to Janette Celis, Ocean Exports Leader in Europartners Mexico, the best you can do in 2022 is to plan very well your international transport movements.
"Leaving everything for the last moment is a bad idea in logistics, and more so at this time when the market is still complicated, which leads to hasty work and increases the possibility of generating circumstances that can have a fatal impact on the time and way your cargo must reach its destination," explains Janette.
Click here to watch, read and learn with 2021's webinar.
Take me back to the table of contents
2. The global container crisis
Overloaded since the beginning of the pandemic, the global maritime transport market has experienced in the last two years an exceptional increase in demand for spaces, with four major consequences:
Shortage of spaces in routes all over the world.
Shortage of equipment (containers, cranes, staff, and other resources needed at ports, such as drayage).
Huge increases in rates.
Severe congestion at ports.
In 2021, we've published in our blog another insight about the ocean freight situation:
Click here to read the complete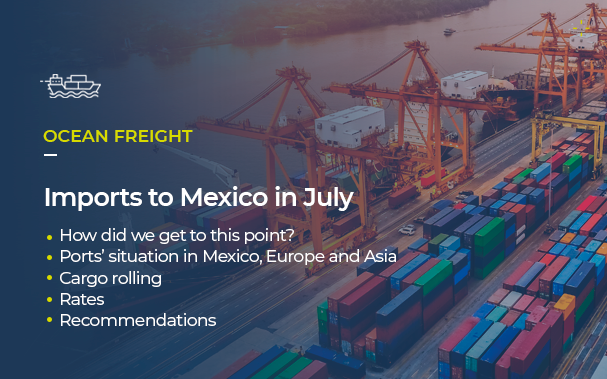 And what will happen in 2022?
"I think that all this situation that is being experienced in maritime transport will continue for most of 2022", says Janette Celis.
The future seems to continue to demand logistics professionals to be very precise. Therefore, Janette presents a list of 4 fundamental recommendations to keep your supply chain moving:
I. Plan
The law of supply and demand seems to be more brutal than ever in today's logistics market. The number of shipments keeps growing and space is limited, so prices are rising.
It is fundamental to plan and schedule your shipments in advance. This means confirming the volume that will be transported in the coming months, to give us visibility and room for manoeuvre.
II. Confirm lead times
It is very important to define the date in which the cargo will be ready for pickup, as well as the date in which that cargo must be at destination, to design the option that best suits these time ranges.
Having this information at hand will enable us to react to any situation that may arise in the process of exporting the cargo. Working with a very tight schedule can turn a logistics operation that promised large profits into an economic disaster.
III. Consider transportation alternatives
Urgent situations require extraordinary measures, so we have the possibility to use alternative transport modes – and even a combination of them. This can be the key to get the cargo at its destination within the required timeframe.

IV. Find a reliable logistics partner
When the situation becomes somewhat complicated, it is very important to work with a trusted partner who will provide you with solutions to the challenges you're facing, seeking to find that great solution that will protect your interests.
Click here to access our ultimate guides on perishables exports!
Take me back to the table of contents
3. The semiconductors' crisis
As we've presented in an exclusive article about this crisis, the global shortage on microchip and other semiconductors wasn't a sudden accident, but the consequence of several market scenarios:
Intel was already having a hard time to face the demand in 2019.
The microchip production market is highly concentrated.
The increase in the demand for electric vehicles.
The new lifestyle post-Covid-19 pandemic, which boosted the purchase of electronic consumer goods.
Bad stock management.
We've asked Anabell Cortés, Europartners Group leader of Time-Sensitive Logistics Strategies, her forecast for 2022. She came up with a very interesting local idea.
"The crisis related to the shortages of inputs, raw materials and containers will continue until 2023 and result in inflation," Anabell predicts. "However – and despite the circumstances – Mexico remains a core country to attract foreign investment from several industries, with great development potential in the face of the nearshoring phenomenon," she explains.
Global Business Consultancy Bain & Company foresees that the Automotive Industry micro-components' supply must reach normal levels on 2022's second semester (3Q2022), with three possible scenarios:
A. The most optimistic scenario
The high-tech industry decreases its demand for semiconductors and the production capacity will be redirected to the Automotive Industry on the 4Q2022.
B. Austere scenario
The Non-Automotive Industries demand will remain high, delaying the recovery of the capacity levels to supply the Auto World.
C. Least optimistic scenario
The semiconductors' shortage will still affect the Automotive Industry until 3Q2022 and it won't recover the lost production volume before 4Q2022.
Global companies' logistics professionals and their business partners must make plans that enable their supply chains to keep moving regardless of what actually happens this year.
Therefore, Anabell Cortes has 5 recommendations for you:
I. Plan your transport needs
Building short and medium-term plans, we can sign pre-assigned cargo agreements that contemplate exclusive spaces on strategic flights, for example.
II. Digitize your operations
Innovative freight forwarders, such as Europartners Group, are building exclusive digital platforms designed to speed your logistics and keep you informed about your shipments' status in real time and much more.
III. Unite your logistics teams
Having your strategic logistics partner and your internal teams working hand in hand and close to your supply chain helps you to make hard decisions quickly.
IV. Develop strategic suppliers

Having a well-organized list of suppliers specialized in key aspects of your logistics is essential for your operational success. Working hand in hand with a strategic partner with experience in the market, sensitive to your goals and needs, who shares growth objectives is a great boost for your business.
Get specialized consultancy before making a hard decision
Specially in situations where time is a key factor or a risk factor.
At Europartners Group, we have teams with expertise in developing time-sensitive plans – following all the necessary medium to long-term requirements – and to act fast and precisely in urgent situations.
Which brings us to the next topic:
4. The Critical Cargo Boom
Take me back to the table of contents
Urgent cargo happens. Critical cargo services were always a logistical option for supply chain managers.
With the great disruptions in recent years (check the next item, "The Great Supply Chain Disruption"), the demand for these services multiplied by 4 since 2017.
To start 2022, Europartners Group's Critical Cargo leader, Leonardo Santos, compiled a list of details you must review before expediting a cargo.
Click here to read the article "Transformation industry: how to prevent your cargo from becoming critical?"
A few months after the article, we asked Leonardo what will happen in 2022 in the expedited cargo market.
"It seems that the current market situation, mainly related to specialized industries (automotive, high-tech, aerospace) will keep this feeling of constant disruption, in the face of the latent threat of new variants of COVID-19," predicts the specialist.
"Keeping supply chains running in these industries will still be a challenge. The Ocean Freight low capacity and availability will keep generating the need for expedited services," explains Leonardo.
He also highlights that our power to adapt is a key reason for you to work with Europartners Group.
"We bet that strong changes are on their way. Meanwhile, we are developing and acquiring more and better technologies that help us to improve out connection with carriers and our customers. We want to refine the way we do logistics in the 21st century," he reveals.
"We have stood out in recent years as one of the players with the greatest capacity for action in international logistics, helping our users to generate contingency and risk management plans," explains Leonardo.
"Now we will focus on generating more strategic relationship plans with the main players in the industry: airlines, carriers and specialized agents, to offer our customers the best solutions globally and locally: it is time to think more and more about 'glocal logistics'," he explains.
The global logistics situation brings us to the next big turning point of 2021:
5. The Great Supply Chain Disruption. What will happen in 2022?
Take me back to the table of contents
The United States Newspaper The New York Times named the crisis caused by the shortage of inputs, spaces for the international cargo transport, drivers for the Ground Freight market and the huge rates increase "The Great Supply Chain Disruption".
In 2021, Europartners Group leader of strategic projects, Argelia Valdés, wrote a powerful insight about the importance of going over each element in your supply chain to find the best way to optimize logistics and prevent production lines disruptions.
Click here to read Argelia's full article.
With the "great disruption" gaining shape – and adding more stress to logistics teams all over the world – we organized a webinar on how the automotive industry, the air services sector and logistics professionals are working together to avoid the collapse of supply chains in the face of the disruptions that challenge us every day.
Click here to watch the webinar and read its highlights (in Spanish).
By the end of the year, we asked Alexander Katsouris, director of the automotive vertical of Europartners Group, what can be done to curb the global trajectory of supply chain disruptions in 2022.
"We need to remain sensitive to market conditions and changes in supply chain strategies of our clients," Katsouris determines. " Whilst we can make that match we can collaborate to deliver the required results," he says.
Specifically, Alexander lists some concrete actions that if you already implemented in 2021, you should strengthen in the new year.
Maintain in depth, open conversations regarding their parts supply management.
Learn where they aim to nearshore or increase stocks.
Plan the best use of Air Freight services for cost effectiveness, timing and stock control.
"At all times our job is to guide our clients to which carriers and routes are less affected in the global congestion crisis", says Alexander. "As an strategic partner in logistics, we must manage their cargo to the final destination, minimizing risks and any potential delays".
We asked Alexander what a company must do to avoid supply chain disruptions. "Continual logistics disruption will be inevitable in 2022. However, partnerships and understanding for high level collaboration will continue to be the differentiating factor to success on shipments", he states.
Intense collaboration and strong partnerships were key in the success story of one of our automotive customers, a Mexican Tier 1 that has not been impacted by the semiconductor crisis.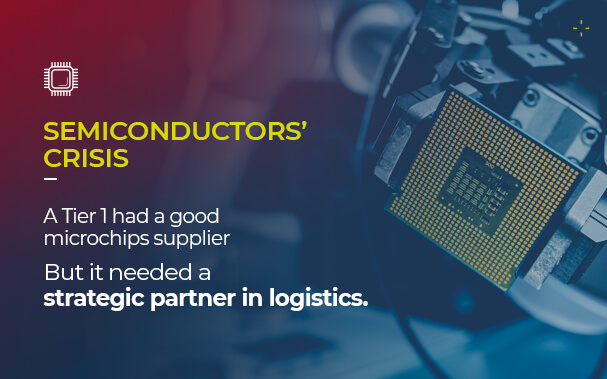 So, having a strategic partner in logistics is essential, as long as your other commercial allies can also guarantee the full functioning of your supply chain.
Take me back to the table of contents
According to our experts, 2022 will be the year of strategic action in companies that want to stay in the market and prosper:
6. Strengthening alliances between companies
For Argelia Valdés, leader of strategic projects at Europartners Group, a relationship of trust between customers, freight forwarders and suppliers opens the opportunity to:
I. Stay active in the field where we work.
II. Leave a footprint within our organizations and in our social environment (new practices, new methods, better results).
III. Acquire understanding of the market and its specific needs.
IV. Develop a relationship in which we all benefit (win-win).
V. Identify key challenges and design creative solutions, together.
VI. Take advantage of and potentiate our experience and knowledge.
"It is time to recognize that today more than ever we need to develop business relationships of trust, for mutual growth. If we really want to stay in the market and leave a mark, it is necessary to reinvent our own relationship strategies and eliminate transactional operations," Argelia describes.
"Without a doubt, it's time to create a partnership in logistics! It is time to develop a long-term relationship, ensuring transparency and openness of information among the decision-makers involved, facilitating not only the understanding of the main challenges within each company and market, but also developing customized solutions to each need and requirement, with a differentiated value, "describes the expert.

Contact us today to get to know our in-house- services, too.
Take me back to the table of contents
7. The truck drivers' shortage
In addition to the "Great Supply Chain Disruption," the press has identified another phenomenon of the pandemic: the "Great Resignation," a massive abandonment of jobs.
In logistics, the great resignation mainly impacted ground transportation in North America. Close to 2021's Black Friday, the New York Times published "The Biggest Kink in America's Supply Chain: Not Enough Truckers," and the Wall Street Journal asked its readers: "Where Are All the Truck Drivers?".
According to a study by Bob Costello, chief economist of the American Trucking Associations (ATA), the shortage of carriers reaches 80,000 professionals, and may reach 160,000 in 2030 if the industry does not attract about 1 million drivers in that period of time.
In the UK, the shortage of carriers has two significant factors: COVID-19 and the limitations of border crossing between the region and the European Union, resulting from Brexit.
According to a survey from the Road Haulage Association (RHA), the shortage can reach 100,000 qualified drivers in the UK.
Some countries are trying to attack the problem from the Legislative Power. Brazil, for instance, is processing a bill reducing the tax burden for trailer drivers who register with the country's Treasury as individual microentrepreneurs.
In the other hand, Time Magazine states that there are enough drivers, but those professionals need better work conditions: "There's no trucker shortage; there's a trucker retention problem created by the poor conditions that sprung up in the industry in the wake of 1980s deregulation," points Time.

At Europartners Group, excellency carriers are always welcome, and always with what we mentioned in #5 in mind: we want to build solid alliances, aiming for mutual growth.

Take me back to the table of contents
8. Regulations changes and strengthening
In 2021, national Legislative and Executive Powers have also joined forces with supranational initiatives to strengthen international freight transport.
This year, we closely follow the implementation of the Customs Technological Integration Project (PITA) and the Carta Porte Bill of Lading in Mexico, for instance.
Click here to read the plan from the first arrangements to the cargo delivery.
We asked Yolisma Noguez, Key-Account Manager (KAM) of Logistics Consulting at Europartners Group, what our customers can expect in the coming year.
"2022 will still be an atypical year. In 2021, companies were looking for a reactivation. We achieved quite positive agreements for our customers because shipping companies, airlines, all the different suppliers we handle were working to generate business," recalls Yolisma. "But the new market circumstance is presenting changes, such as increased competition in logistics services," he says.
"To our clients, I recommend investing resources in planning. Work on logistics strategies, rather than production or sales strategies. That is no longer enough to cover their needs, to minimize the impact of risks, which will continue or increase," says the specialist. "Planning a logistics strategy is the best way to take advantage of the competitive advantages offered by different vendors and market changes (routes, etc.). Planning is better than reacting," Yolisma recalls.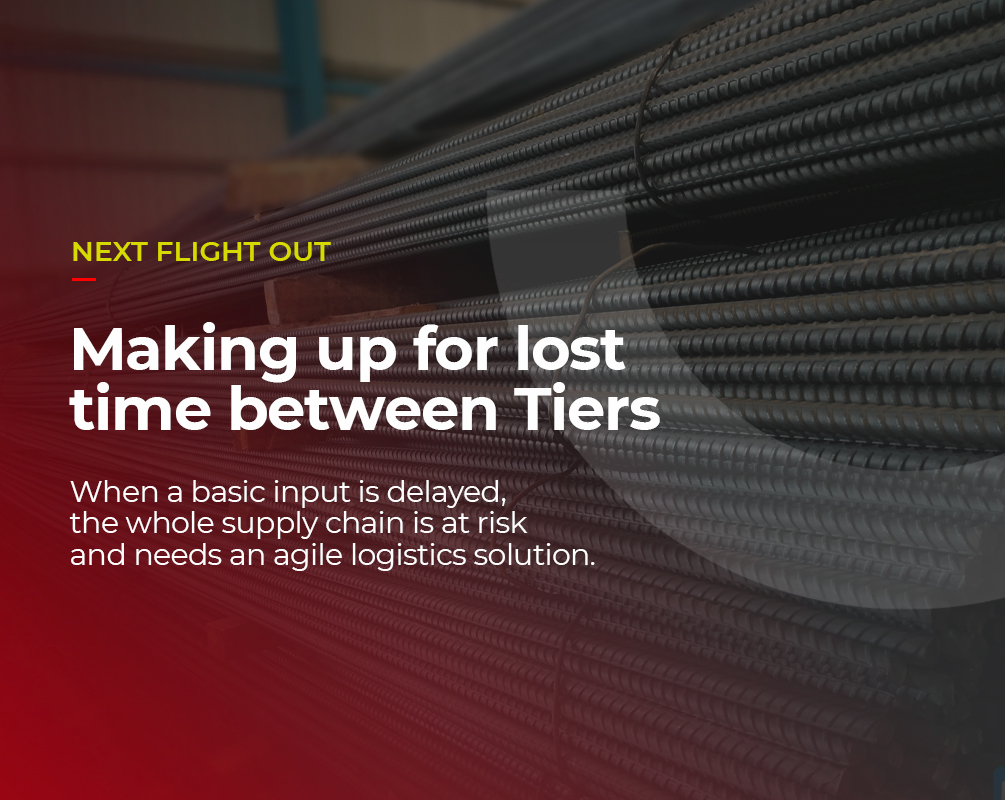 From our expertise in air freight services, we avoided line stoppages by precisely coordinating the transport of time-sensitive cargo using our Air Priority (Next Flight Out) service, hand in hand with EP America, a company of Europartners Group in North America.
And to close the year with lots of energy to do much more for our customers in 2022, we became the most culturally powerful company in Latin America!
That means we started 2022 fully motivated, working hard to be your best strategic partner in logistics, coordinating your cargo, your complex projects and connecting minds to move the world and to deliver everything on time.
What did you think of our recommendations? Follow us on our social networks to leave your comments and not miss our updates on different markets, the success stories of our customers and celebrate the main dates of the year.