Logistics is more than moving cargo from one point to another. Every detail counts for the success — or disaster — of an operation. Learn how our Next Flight Out team managed to make up for lost time and prevent a line stoppage.
Robust processes are critical to ensure an efficient supply chain running.
However, sometimes a procedure generated to ensure safety ends up becoming an obstacle to the fluidity of the production line.
In our history today, a valuable load of electrolytic capacitors nearly lagged behind in China, disrupting the production of touchscreens at an automotive Tier 1 plant in Aguascalientes, central Mexico — consequently affecting the line of its customer, a global OEM.
The movement
It had everything to be a normal air cargo transport from China to Mexico.
However, new measures to protect the population from a wave of covid-19 led to the cancellation of flights, restriction in customs and saturation of spaces, complicating departure itineraries.
Thus, the capacitors would not arrive in time to continue production.
With a team specialized in meeting transport needs with comprehensive logistics 24/7, at Europartners Group we partner with specialized agents sensitive to emergencies around the world.
Our strategic partners are the ones capable to share market visibility, analyzing routes, airlines and service levels according to the current condition of the country of origin, so that your cargo arrives on time.
Comprehensive logistics for fast and precise deliveries
On a Wednesday shortly before the arrival of spring in the Northern Hemisphere, we got the request for a regular, consolidated air cargo movement — a quite competitive option for scheduled cargo.
But every rose has its thorns. On Thursday, the airline let us know that it was not possible to fly as scheduled.
The arrival date (ETA) available would negatively impact the times of our customer's production line, since they needed the material at the plant on Monday.
The cargo became urgent.
You should also read: How can you avoid your cargo to become critical?
To take the cargo to Mexico on time, our experts determined that Next Flight Out was the best solution for this movement.
On Saturday, everything was ready to collect the cargo.
But a new detail emerged.
Although capacitors are not considered dangerous goods (HAZMAT), to fly it anywhere, we need to present a chemical safety manifest.
The supplier had not delivered the document to the carrier and asked for two working days to carry out the internal bureaucratic procedures of the company: register the agent and deliver the paperwork.
China's customs authority restricts export clearance without such a document.
Monday was a holiday in China. If we did not act against the bureaucracy, the cargo would leave the Asian country several days after the need of our client.
What did Europartners Group do?
Comprehensive logistics, dedicated attention
Immediately, our Next Flight Out team sprang into action, working without interruption from Saturday to Monday (local time in China).
The intervention should be surgical. Everything had to be solved in less than 72 hours.
The OEM asked to participate in the negotiations and have visibility at the weekend. We include them in the conversations.
We managed to coordinate the communication of all those involved – even the end customer – from origin to the final plant where the capacitors would arrive.
The origin was a plant in Qingdao (青岛), a port city of skyscrapers, parks and beaches in the Shandong Province, in the People's Republic of China.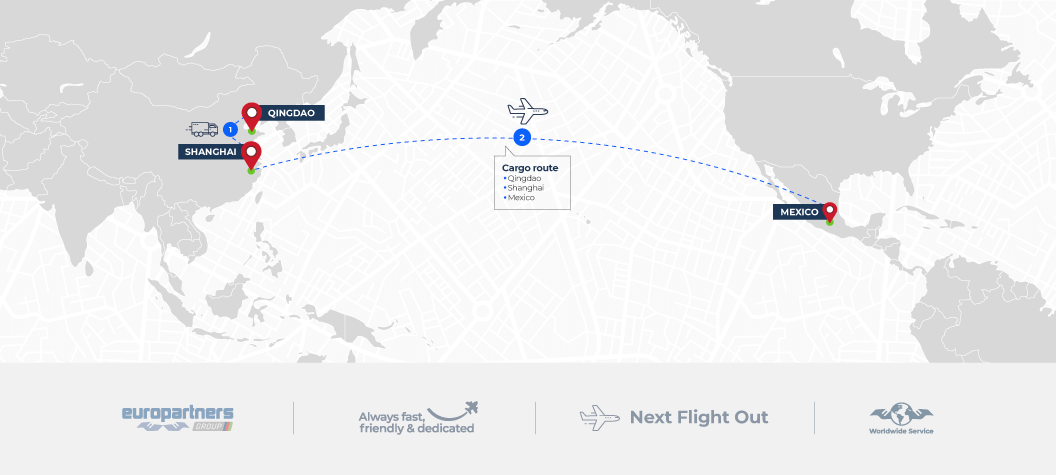 We go beyond logistics.
We provide comprehensive solutions.
With experienced professionals working as a team to meet all the needs of the movement – all empowered with full autonomy to make quick decisions to make things happen, within 48 hours it was possible to:
Register our counterpart at origin
Get the safety sheet
Design the ideal itinerary to meet our client's times
Negotiate top priority with the airline for a Next Flight Out service
Execute the first mile movement
Although the times of the supply chain and the bureaucracy are different, with a strategic partner taking care of your comprehensive logistics from a business growth consulting perspective, direct and frank communication, dedicated to solving challenges and designing solutions, your cargo will arrive on time.
This is how we delivered the 5,900 pieces of capacitors to our client in time to avoid a line stoppage.
We provide complete solutions. We go beyond logistics. We get involved in your business, working in harmony with your teams and all stakeholders necessary, from origin to destination.
At Europartners, we are always working hard to find the best way to get things done, designing and executing customized solutions, in a transparent way, to satisfy the specific logistics need of each of our customers, measuring risks and acting quickly so that your cargo arrives on time.
Do you need a strategic partner in comprehensive logistics for your scheduled cargo and to act quickly and decisively in case of emergency? Connect with us. We're Europartners Group, connecting minds to move the world.